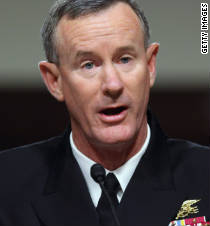 (CNN)The man who was the architect of the raid that killed Osama bin Laden in the suburbs of a Pakistani city was getting anxious.
He had thought it was possible to keep an element of surprise and evade any response from Pakistan's military if the U.S. Navy SEALs could complete the mission in 30 minutes, Adm. William "Bill" McRaven told
CNN
last week in his first in-depth interview about the operation.
But after killing bin Laden and his bodyguards, some SEALs went down to the second floor of bin Laden's house and found a
treasure trove
of hard drives and documents. Now they were trying to pick up all this, which was stretching the time on target.
After about 40 minutes, McRaven was "getting a little bit anxious," he recalled. Speaking to the ground commander, he said, "Hey, get everything you can. But it's time to wrap this up and get out of Abbottabad." As they lifted off from the Abbottabad compound, the SEALs had spent 48 minutes on the ground.
There was a pause on the other end of the videoconference. The President came up on the
video
saying, "Bill, let me get this straight. We have $60 million for a helicopter, and you didn't have $10 for a tape measure?" McRaven said, "It was one of those light moments in the middle of a very anxious time in our nation's history. And it was kinda perfectly timed. It lightened a very tough moment."
A couple of days later, the President presented McRaven with a tape measure mounted on a stand.
Bin Laden was buried at sea. DNA obtained from bin Laden relatives gave a 100% match that it was al Qaeda's leader.
On May 6, four days after the raid, Obama traveled to Fort Campbell, Kentucky, home to the 160th Special Operations Air Regiment. There he met with the SEAL team and the helicopter pilots who had carried out the mission. The President didn't ask who had taken the kill shot and no one volunteered who had done so.
Fighting back tears as he reflected on the many years of sacrifice that had preceded the bin Laden raid, McRaven said, "The President understood everybody was part of this and it wasn't just the SEAL team and the Night Stalkers (helicopter pilots), it was everybody that has fought in the Iraq and the Afghanistan wars after 9/11. … There may have been one person that pulled the trigger, but there were hundreds of thousands of troops behind us."
Read more: http://www.cnn.com/2016/05/02/politics/osama-bin-laden-raid-architect-mcraven-bergen/index.html