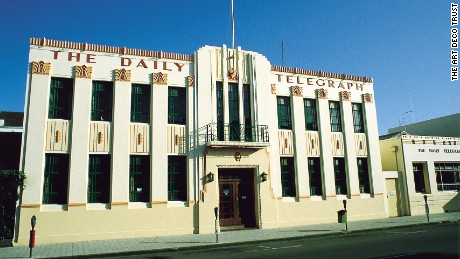 Napier, New Zealand (CNN) Once promoted as the Nice of the Pacific due to the fact that of its Mediterranean environment and tree-lined boardwalk, the seaside town of Napier in Hawke's Bay, New Zealand was changed in February 1931.
< div class="el __ embedded "el __ embedded-- conventional" > But Napier's trip de force in integrating Maori design with Art Deco visual is the old BNZ Building, which was brought back and reconditioned after being taken control of by ASB Bank in 1993. Ornate sculpting patterns in cement plaster function plainly, including the zigzags regularly seen both in Maori and Art
Deco themes, and the designs in the entryway opening are stated to represent"the wealth of the people." Celebration of durability In the mid-1980s Napier's structures were at major danger from designers and the Art Deco Trust was developed to protect the city and safeguard's heritage.
Jackson states Napier City Council now utilizes the Trust as a vital stakeholder and specialist on all advancement that might affect the heritage structures in Napier.
" The Trust has a big archive with numerous illustrations and pictures of virtually all structures in Napier. We utilize it to encourage owners on the best ways to tackle making sure that repair works and repairs are done according to the Art Deco design," states Ann Galloway, a regional Napier designer and specialist for the Trust.
The town's cautious conservation has actually assisted change this drowsy seaside resort into among New Zealand's leading traveler destinations and visitors now flock to the city to appreciate it distinct architecture.
The earthquake is not forgotten however, and every February, the city commemorates the town's brave durability and renewal with the Napier Art Deco Festival, a vibrant celebration of the food, music and charm of the Art Deco age.
"The splendid setting of the town, particularly on the Marine Parade with the Pacific Ocean so close is truly unique," states Fowler. "Add in a couple of classic cars and "jolly great program old kid" and you 'd believe you were back in the late 1920s or '30s!"
Read more: http://www.cnn.com/2016/05/16/architecture/napier-art-deco-architecture/index.html