Lupita Nyong'o, Angela Bassett and More Dazzle at Black Panther Premiere
Getty Images/Shutterstock
King T'Challa has come to Hollywood!
A little over two weeks ahead of the film's release, the cast of Black Panther has hit up Hollywood for the movie's star-studded premiere.
On Monday night, the action-packed flick's director Ryan Coogler joined some of the film's stars, which include Chadwick Boseman, Michael B. Jordan, Lupita Nyong'o, Danai Guria, Angela Bassett, Forest Whitaker, Letitia Wright, Martin Freeman, Daniel Kaluuya, Sterling K. Brown and Andy Serkis, who descended upon Tinsel Town for the red carpet event.
Marvel's highly anticipated new movie follows T'Challa (Boseman), who returns home to the isolated, technologically advanced African nation of Wakanda to take his rightful place as king after the death of his father. Inevitably, he is drawn into a conflict that puts the fate of his people and the world in jeopardy. T'Challa must face Erik "Killmonger" Stevens (Jordan), a Wakandan exile turned American black-ops soldier, who is hell-bent on overthrowing T'Challa's reign.
Black Panther opens February 16.
Check out all the fab fashions on the red carpet…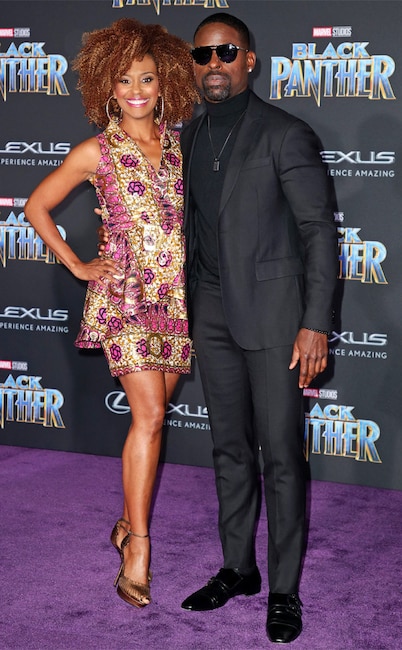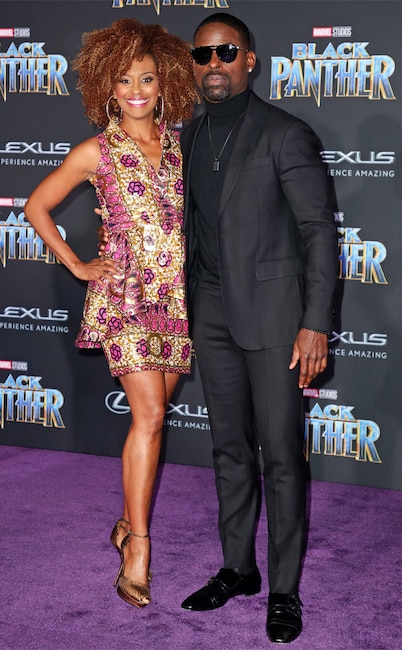 Chelsea Lauren/REX/Shutterstock
Sterling K. Brown & Ryan Michelle Bathe

Date night done right! The This Is Us star and his wife show up in style for the evening premiere.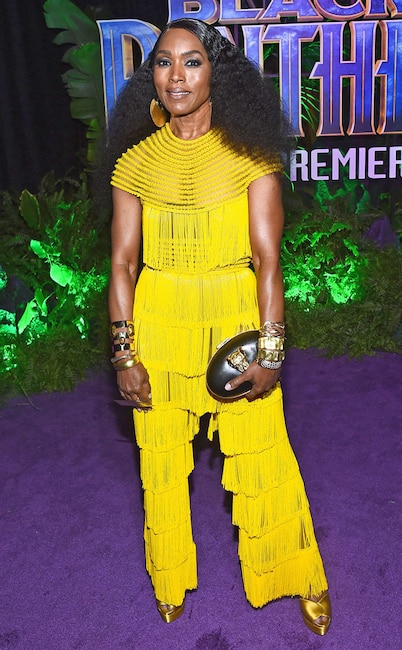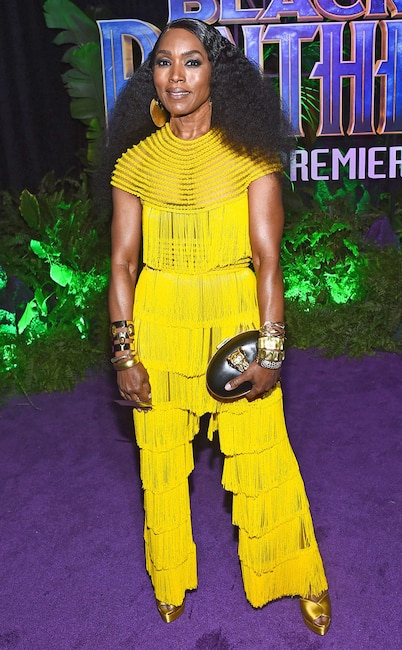 Michael Buckner/Variety/REX/Shutterstock
Angela Bassett

Wearing a fabulous fringe design, the scene-stealing actress was more than mellow in yellow at the film's premiere at the Dolby Theater on Jan. 29.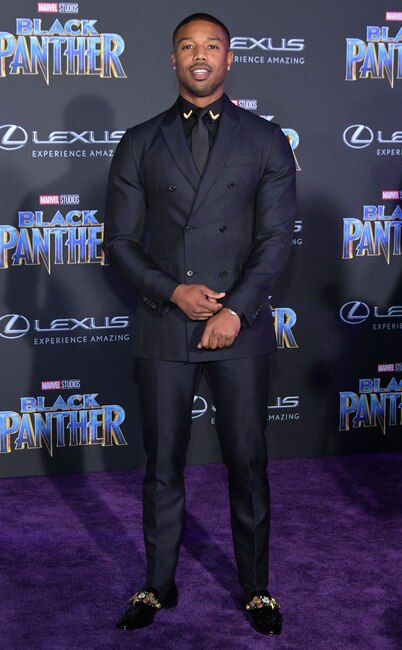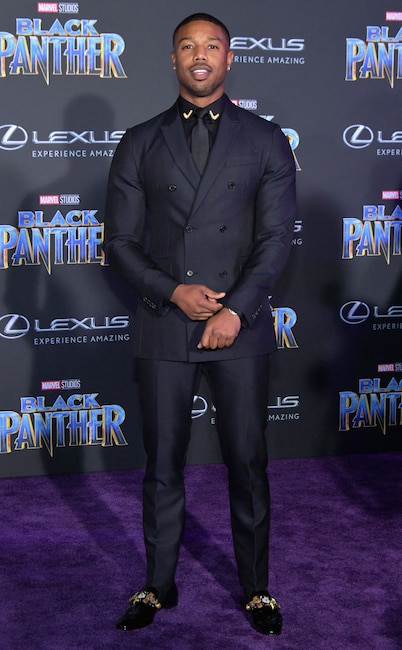 Neilson Barnard/Getty Images
Michael B. Jordan

Stud alert! The Hollywood star looks handsome as ever at the star-studded premiere.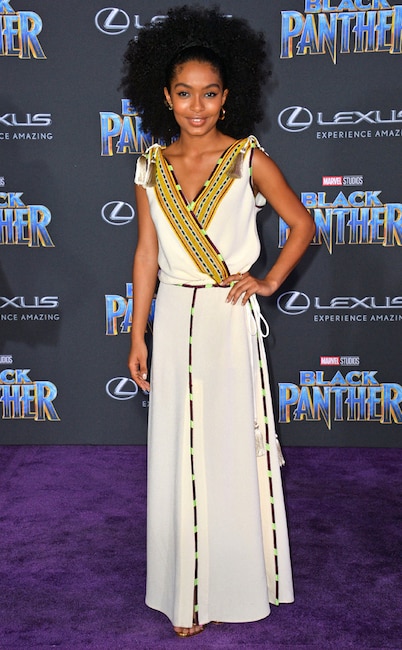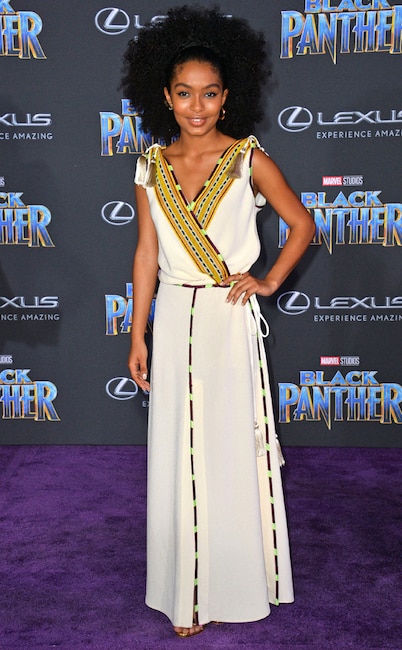 FeatureflashSHM/REX/Shutterstock
Yara Shahidi

The Black-ish star dons an African-print dress for the premiere of the Marvel movie.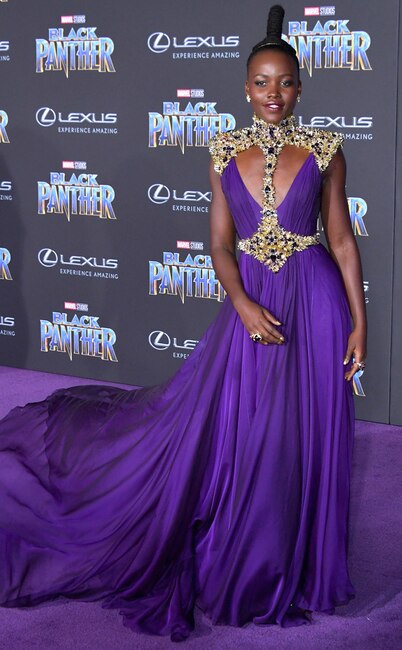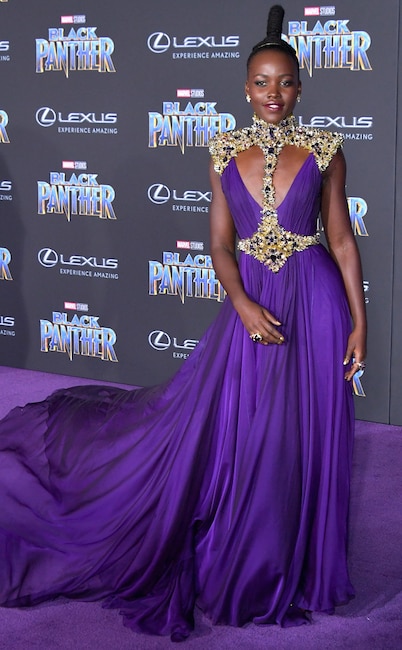 Neilson Barnard/Getty Images
Lupita Nyong'o

The film's star goes for a regal purple, jewel-encrusted gown and absolutely slays on the red carpet.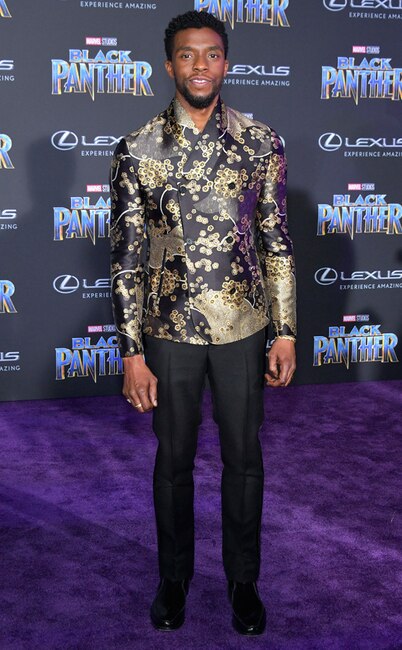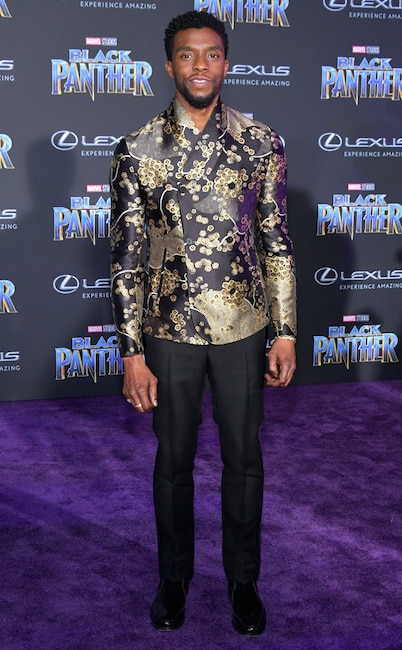 Neilson Barnard/Getty Images
Chadwick Boseman

The film's lead turned heads with a gold-and-black top and black pants at the Dolby Theatre on Jan. 29.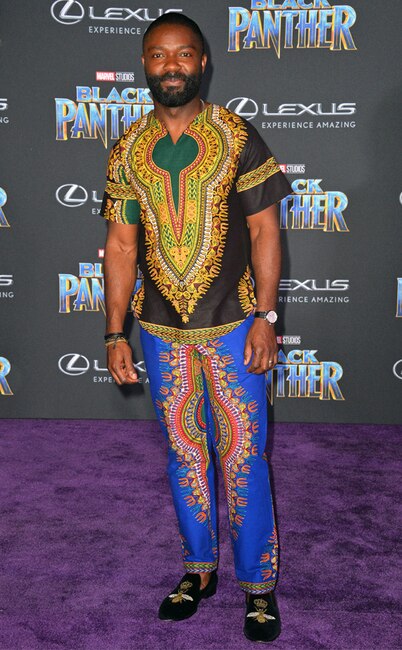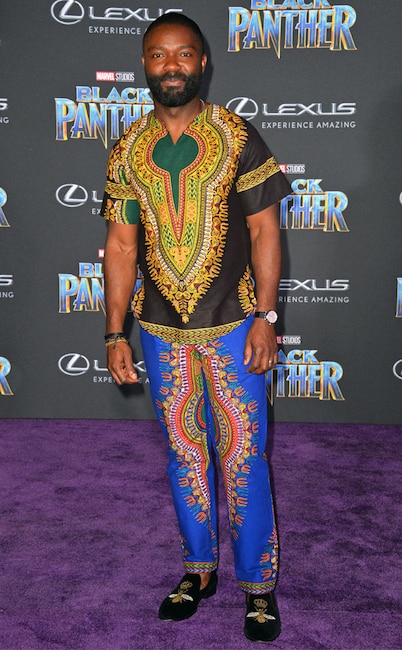 FeatureflashSHM/REX/Shutterstock
David Oyelowo

Attending the star-studded event, the Oscar-nominated actor is wearing a colorful African ensemble, which he paired with velvet loafers.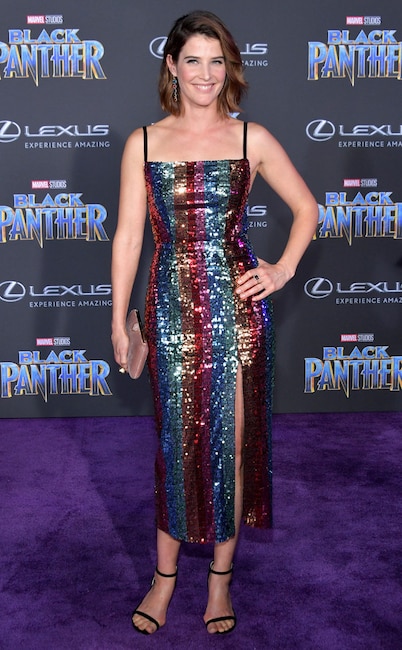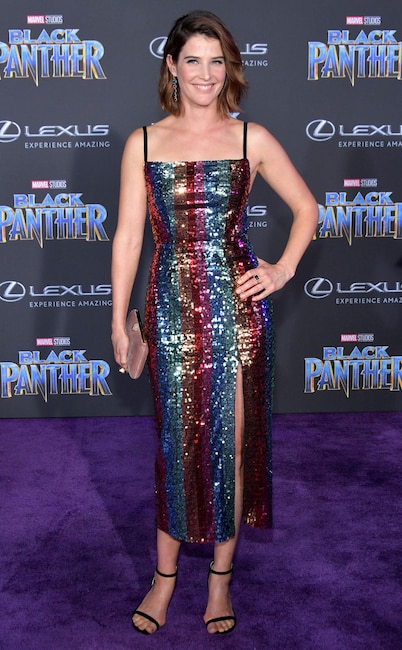 Neilson Barnard/Getty Images
Cobie Smulders

The former How I Met Your Mother star dazzled in a glittering gown in Hollywood.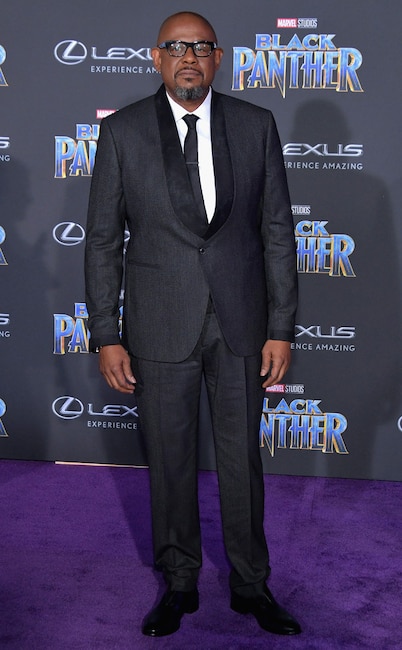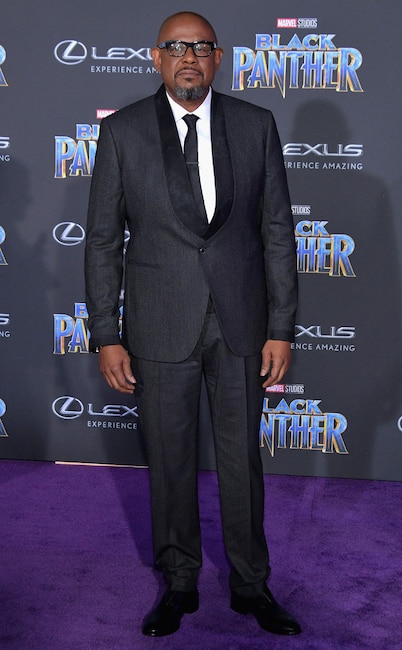 Neilson Barnard/Getty Images
Forest Whitaker

It's a big night for the actor who portrays Zuri in the big-screen movie.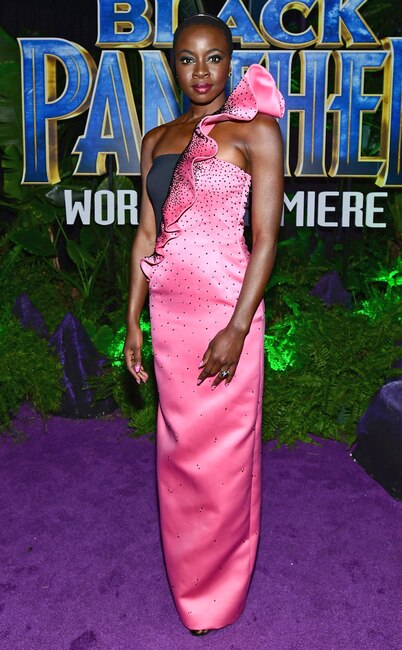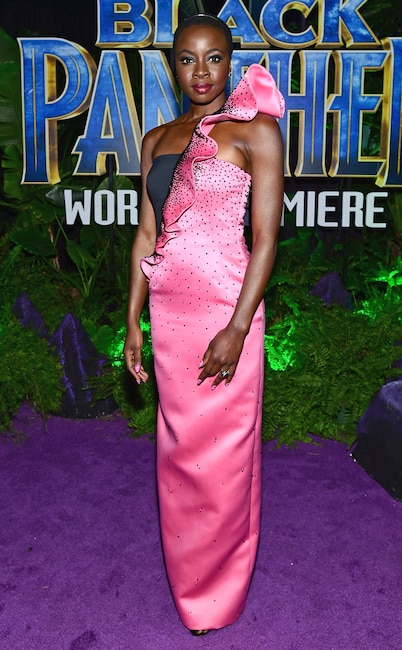 Emma McIntyre/Getty Images
Danai Gurira

Actress wears a striking pink design to the Hollywood premiere.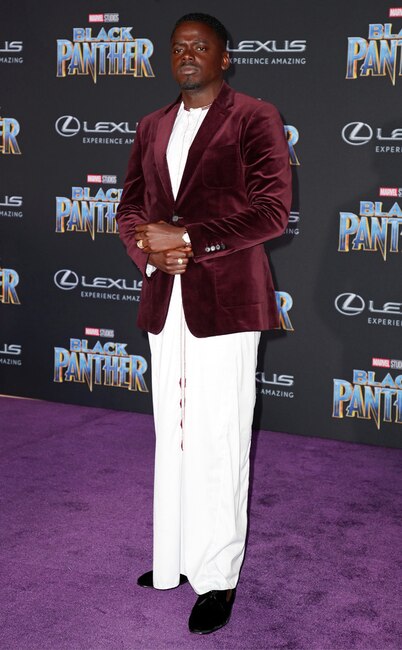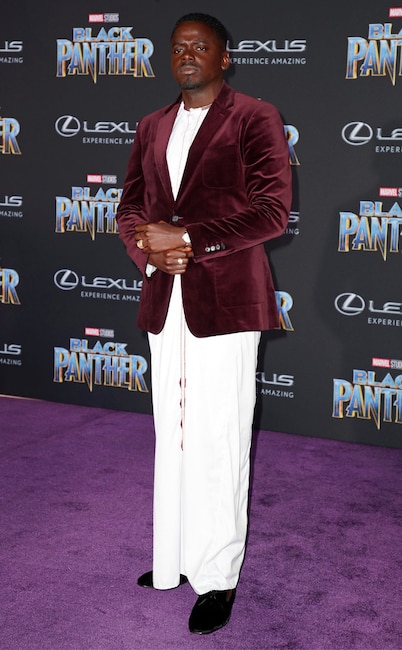 Chelsea Lauren/REX/Shutterstock
Daniel Kaluuya

Even though he's still celebrating the success of Get Out, this Hollywood star is focused on Black Panther tonight.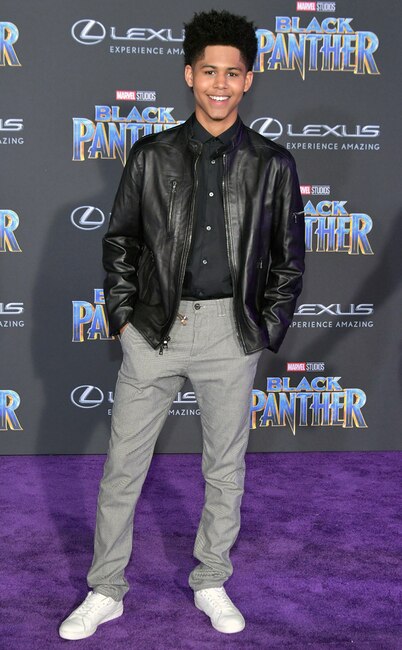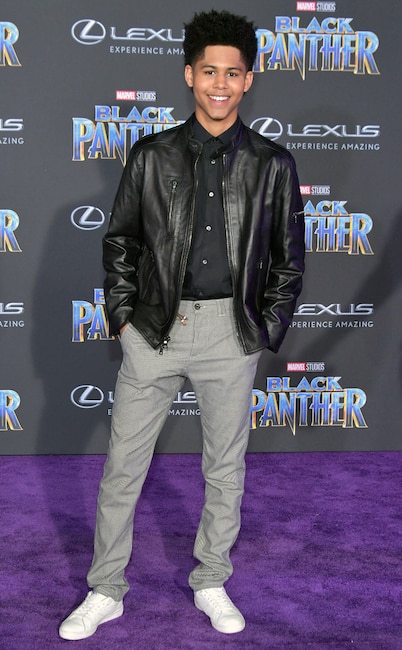 Neilson Barnard/Getty Images
Rhenzy Feliz

Actor attends the premiere of Disney and Marvel's Black Panther at Dolby Theatre in Hollywood.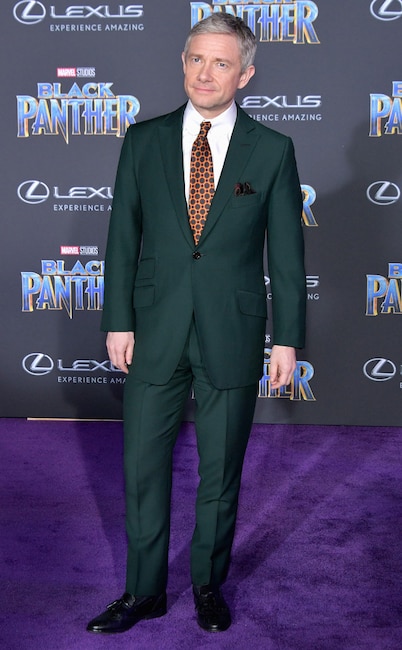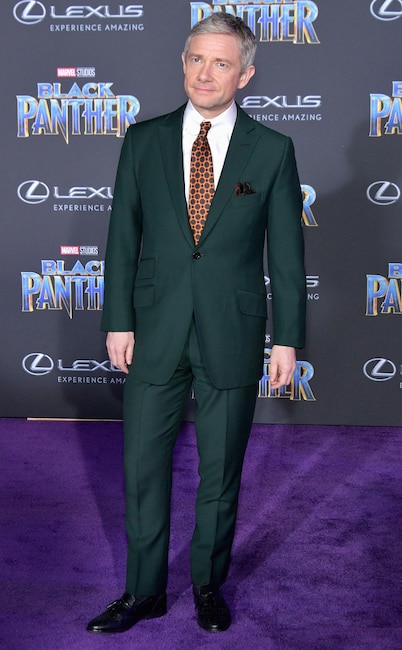 Neilson Barnard/Getty Images
Martin Freeman

Attention moviegoers: The actor who goes by Everett K. Ross in this film is officially in the building.
Don't miss E! News every weekday at 7 and 11 p.m.
Published at Tue, 30 Jan 2018 04:04:00 +0000The Bachelor Recap: Bowling Alley Blues
Congratulations to Ft. Lauderdale, Florida, the latest great place to fall in love.
"Tons of water, tons of boardwalks, palm trees," as Chelsea, newest employee of the Ft. Lauderdale tourism department, described it. "It's amazing."
"I've seen relationships form in front of my very eyes over a day, so I could only imagine what one day would do in Ft. Lauderdale," added other newest employee of the Ft. Lauderdale tourism department, Kendall.
Tonight's episode of The Bachelor began with Arie in a convertible, cruising down a beachy Floridian street on his way to pick up one of his many girlfriends. That one turned out to be Chelsea, who just couldn't wait for Arie to get to know Chelsea, not just The Mom that he knows her to be.
They enjoyed a day on yacht, jetskiing while the other girls watched from their fancy hotel suite and worried about the fact that when Arie arrived to pick up Chelsea, he didn't even look at them.
"I'm on a dreamboat, but I'm also with a dreamboat," Chelsea recited from the deck of the yacht.
Later, alongside a bunch of old fancy cars, Chelsea detailed having been left by her ex with a six month-old baby and garbage bags full of her belongings.
"God, that must be like…so tough for you," Arie replied.
But like, it's all fine now, because Chelsea's got Arie, and a date rose. And also one of those damn awkward private concerts.
Up next, bowling, because in Arizona, they know that if they want to have fun, they go bowling!
The women got to divide themselves up into two teams to compete to attend the after party, and let me tell you—nothing has ever sounded more thrilling than a bowling after party. Those gals were ready to fight for what we could only imagine was going to involve questionable pizza and plastic cups of beer. (In the end, it actually just involved all the women sitting around awkwardly while Arie made out with them one by one.)
Team Spare Roses even performed a drunken cheer (OK, Jenna performed the drunken cheer all on her own) and Arie had just one response.
"Oh my god, that was amazing."
That same team then engaged in a team prayer, led by Krystal.
"No matter what, let's just focus on making this the best day ever," she cooed. "And I want to ask for Wayne and Chucky to be our angels and to guide us through a very strong win to the end."
In case you're also confused, Wayne and Chucky are Krystal's dogs, who she loves so much, and in case you started assuming things about the hot mess status of Team Spare Roses, you'd be wrong. They were weirdly good at bowling.
Team Pin-Ups didn't even have a chance, and Krystal walked away with the trophy. But everybody got to go to the after party after all, said Arie, which might not have been the last straw for Krystal, but it was definitely one of the last straws.
She so desperately wanted that five-on-one time with Arie, and the very idea of switching it to a 10-on-one date was just unbearable. Unfortunately, most of her meltdown happened on the bus, where the cameras were not rolling.
"She said some really rude things," Maquel said of the bus breakdown. "She was repeating that he was a liar, and that she's not going to ever trust him, and saying really hurtful and disrespectful things.
"The other team didn't win," Krystal explained from another room. "He took back his word and said the losing team's coming. He didn't consult us. He didn't take us into consideration. He told us what to do. I'm looking for a partnership. I'm looking for someone who I trust."
I'm fairly certain no one "changes their mind" without producer permission on this show, so there's a good chance it wasn't Arie's idea to change the rules, but hey, the crazier Krystal gets, the more likely she is to get out.
She even decided to not go to the party at all, which Arie didn't immediately notice. The other women had to inform him, to which he responded, "Umm, OK."
And then of course, he decided he needed to go check on Krystal, to address the fact that she was having such strong feelings.
"BRB" he basically said as he ditched all the women who were happy to be there to go talk to the one who wasn't.
The girls at the party held hands in prayer for Krystal, led by Bekah, just as Krystal arrived. Arie and Becca were canoodling, so it was just the women sitting around, listening to Krystal's krazy talk about how she was lied to, re: the bowling.
Bekah did her best to turn it around, saying that Krystal said she wasn't coming to the party, and then she came to the party, meaning she's also a disrespectful liar. So she left, without Arie even knowing she came to the party from which he disinvited her after she declared she would not attend it.
Meanwhile, Arie was playing the most boring game of 20 Questions with Lauren B.
"How do you like your coffee?"
"With coconut milk."
"Whoa, OK."
Lauren B. ended up with the rose. Whoa, OK.
After all that, there was still a one-on-one with Tia (and an hour left in the show!!). They took a swamp tour (no word on if it was a Groupon but I'm gonna guess no) and saw an alligator.
"In a crazy way, it reminded me that love can be kinda scary, but at the same time, every day can be an adventure," Arie explained.
They also saw a turtle.
Later, Tia explained the concept of frogging, and Arie marveled at swamp boat engines, and then they got into a deep conversation about religion and spirituality, and it was pretty nice actually. You go, Tia.
Finally, with half an hour left, it was cocktail party time. It was also "Krystal talks too much" time.
"Yesterday, I wasn't hiding in my room," she explained. "I was investing in myself and growing from the struggle that happened and the challenge. Like I was discovering."
She was then discovering that the other girls were talking about her, and said that if anyone wanted to say anything to her, they could say it privately. So Kendall did, and tried to tell Krystal that maybe Arie's not the right person for her right now. And then Tia popped in, and Bekah, who asked Krystal why she was even still there. It was the weirdest cocktail party ever.
And it got weirder when Krystal finally got her conversation with Arie and explained, out of nowhere, that the group date was so hard because she grew up in a bowling alley!
"It's like our first fight," she told him lovingly.
"It could be our last fight, you know," he said.
Surprise! He kept her. And surprise! It looks like maybe, just maybe, we're in for a hell of a two-on-one next week. And surprise! That was exhausting. As usual.
The Bachelor airs Mondays at 8 p.m. on ABC.
Published at Tue, 30 Jan 2018 03:49:00 +0000