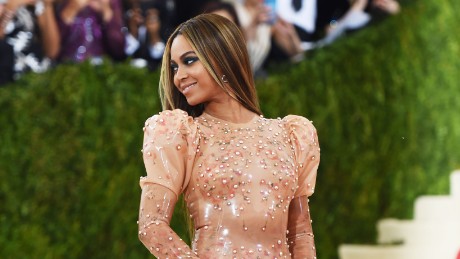 (CNN)Featuring a flurry of silver, lustrous and futuristic looks, the fashion elite gathered Monday evening for the Met Museum's annual black-tie extravaganza.
This year, the Costume Institute ball was centered around the idea of "Manus x Machina: Fashion in an Age of
Technology
," exploring the relationship between clothes created by hand (or "manus") versus the machine.
As expected with a
technology
-tied theme, metallic accents paired with sleek, slick-backed hairstyles featured prominently on the night.
Models Alessandra Ambrosio and Cindy Crawford, and the Kardashians' youngest
Kylie Jenner
opted for sterling-hued looks.
Singer Rita Ora donned a metallic grey, feathered Hunger Games-like get up while actress Kate Hudson's white dress was more of a sculptural and deconstructed take.
Welcome to #ManusXMachina at the @metmuseum. Video by @danilolauria. #MetGala
Much of what was paraded out could be described as a sort of artificial intelligence chic.
The exhibition itself charts the evolution of fashion from the invention of the sewing machine to the onset of mass production that's enabled fast fashion juggernauts like Zara and H&M to thrive. (H&M outfits, in fact, made it onto the night's red carpet via actresses Hailee Steinfeld and Amber Valletta.)
Hallowed haute couture — painstakingly crafted by teams of artisans — is pitted against the "gotta-have-it" now mentality of ready-to-wear and the high street.
Apple's chief design officer Jonathan Ive joined 'Vogue' editor-in-chief Anna Wintour as co-chair of the event.
Driven by the advent of 3D printing, computer modeling and laser cutting techniques, the sectors of fashion and
technology
are moving closer than ever. Met Museum Costume Institute curator Andrew Bolton said the exhibition will hopefully "debunk some of the mythologies of the hand made and machine."
"Traditionally the handmade has been seen as being about luxury, about superiority and it's also been seen as something that's elitist," Bolton explained. "Whereas the machine has been about progress and the future. On the other side, it's been about mediocrity and dehumanization."
"I'm finding those values don't really hold up," Bolton continued. "Sometimes a garment that's been machine-made actually has more hours spent on it, is more luxurious than doing it by hand."
Read more: http://www.cnn.com/2016/05/02/fashion/met-gala-2016/index.html