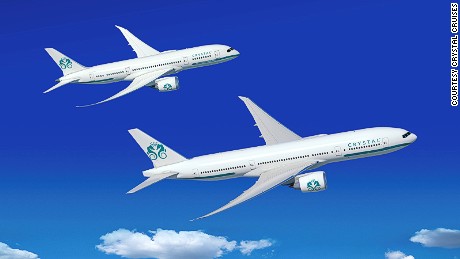 (CNN)For most cruise-goers, hopping on an airplane is just a means to an end.
It's the boring bit before they get to their dream vacation: boarding ship and sailing leisurely from one port to the next in the comforts of modern spacious liners.
But if a ship can replicate on water the comforts of a five-star hotel, why can't a plane?
After all, aircraft are mobile, can be fitted with private cabins and they beat ships on at least two counts: speed and reach.
Take the cruise concept to the skies and travelers are no longer limited to the seas of a particular region.
They can wander around the whole globe in style.
This is precisely what luxury U.S. cruise operator
Crystal Cruises
aims to do.
Building a fleet
The American company, which trades at the highest end of the cruise market, has just bought two long-range airliners: a Boeing 777-200LR and a Boeing 787-8 Dreamliner.
It plans to equip both with customized VIP interiors in order to start luxury flights around the
world
using the brand extension Crystal Luxury Air, starting in 2017.
The twin-aisle 777-200LR will be redesigned to host just 88 guests with flat-bed first-class seats and a swanky lounge and bar.
It will be the first to launch.
The twin-aisle Dreamliner, which usually seats up to 300 passengers, will accommodate just 52 guests after refurbishment.
No launch timetable has been confirmed yet for the Dreamliner.
The VIP market
Round-the-
world
VIP flights with multiple stops en route aren't new.
This exclusive segment of the travel industry has seen a lot of developments in recent times.
Hotel chain
Four Seasons
and luxury travel specialists
Abercrombie & Kent
both launched their own around-the-
world
products recently, complete with VIP-configured aircraft and stops at selected resorts along the route.
What sets Crystal Cruises' initiative apart is that it's getting its own air certificate operator (AOC) to operate this nascent aircraft fleet.
While other players in the luxury travel market subcontract the flying part of their round-the-world tours to established airlines with specially configured aircraft, Crystal Cruises is becoming an airline on its own right.
Other luxury travel operators don't have their own AOC and therefore outsource the operation of their VIP-configured aircraft.
Icelandic charter airline Loftleidir, part of the Icelandair Group, is a player in this market, wet-leasing its Boeing 757s for a number of premium travel experiences.
Although it might be costlier and provide less flexibility, the Crystal Cruises approach makes sense when we remember that it sees brand experience and reputation for top-notch service as a core asset.
It's therefore important to keep all processes in-house.
It'll even take care of training the air crews.
Around the world in 28 days
Crystal will take things at a gentler pace.
Passengers on Crystal's aircraft will be offered a choice of either a 28-day tour, priced at $100,000 per person or, for those short of time, a 14-day one for $50,000.
During these all-inclusive tours, the aircraft will be stopping at about nine to 10 different destinations in different continents, where the travelers will be able to get a whistle-stop tour of key attractions, just like they'd do if they were on a traditional sea cruise.
Luxury hotel accommodation, Michelin star-level cuisine by celebrated chefs and local cultural entertainment are all part of the package.
The planes can also be booked for special charters.
Money no obstacle for passengers
The price tag seems to be no obstacle for Crystal's loyal clientele.
In fact, the decision to add a second aircraft to the company's fleet came up after noticing the strength of the demand.
"Market reception has been phenomenal and not just in the American market, demand comes from all over the world," according to Crystal Cruises CEO Edie Gonzalez.
"Some of our clients have their own jets, but they come to us for the experience."
Crystal Cruises has yet to reveal details of final itineraries or operational details, or even the base airport — although it seems that tours will start and finish in the same location.
The creation of an air fleet isn't the only the move the company has taken to diversify from core cruise business.
It's expanded into yacht and river cruises too.
The Crystal Esprit, which launched last year, is the first of a fleet of smaller yachts which come with their own two-passenger submarines for the enjoyment of passengers.
Then there's the Crystal Endeavor, the world's first purpose-built polar class mega-yacht designed for global expeditions in the Arctic, Antarctic and deep tropic destinations.
The Endeavor will debut in 2018 and will take bookings from fall/winter 2016.
An emerging phenomenon
Some might see these developments as nothing more than a huge brand extension experiment.
However, the apparent success that has met the — so far limited — offerings recently launched by the likes of Crystal Cruises, Four Seasons and Abercrombie & Kent may well herald the emergence of a promising new market niche.
The big question is whether dedicated round-the-world air services will remain confined to the high-end market or, as with mainstream airlines, whether lower-cost versions will be on their way.
As the almighty growth of low-cost airline carriers has shown, it makes sense to keep one step ahead of the competition.
Read more: http://www.cnn.com/2016/05/02/aviation/crystal-cruises-airline-fleet/index.html