CONCERT
A family adventure in making comeback kids videos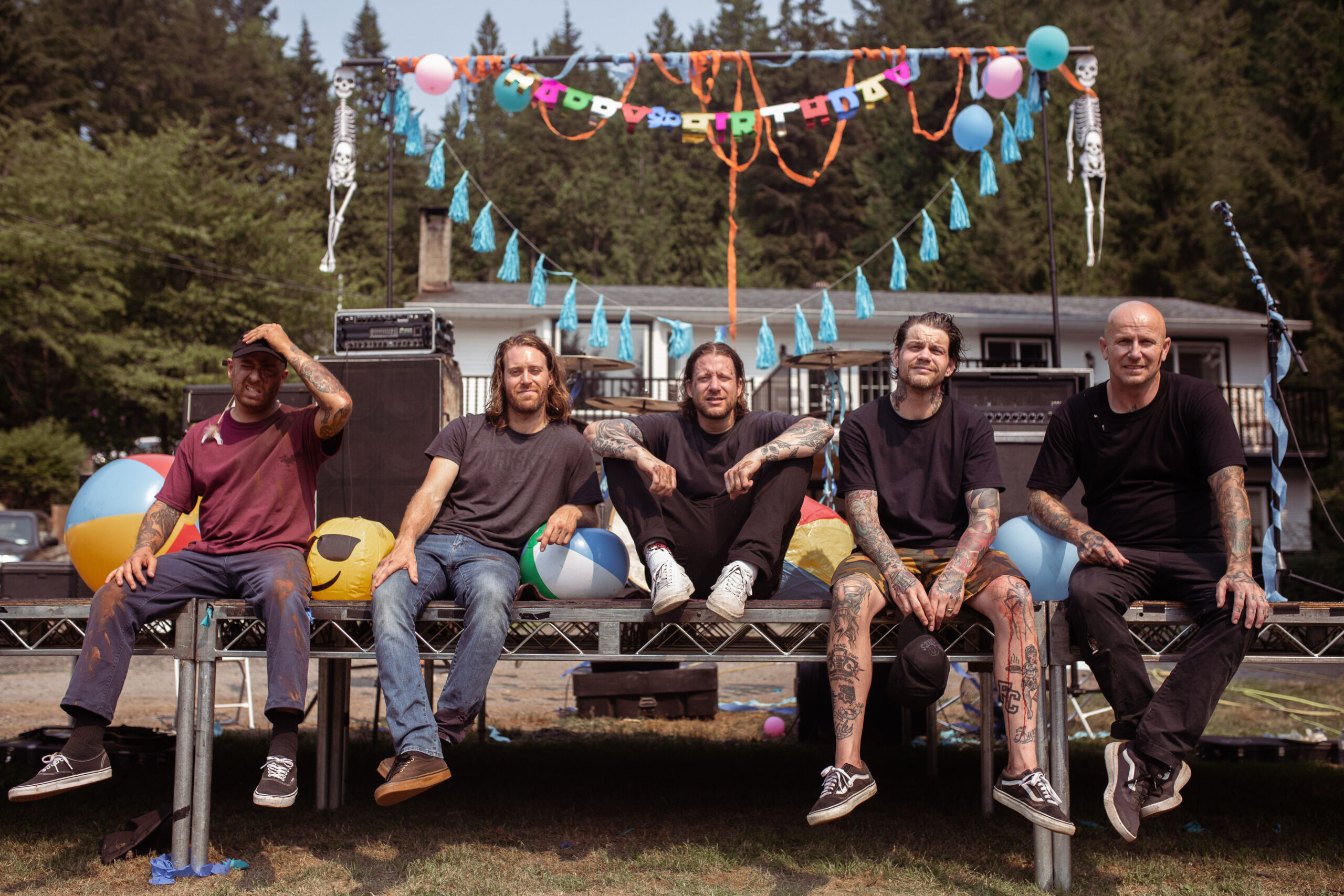 Sweaty little hands my wife and I, in a bit of a hurry, head towards the huge bouncy castle in the distance. Despite the scorching heat and smoky fog from about 300 forest fires around British Columbia that day, the swollen structure is shaking wildly with children burning inside. The bubbles slowly floated, fascinating my two-year-old son, while, on a small hill, some older kid descended with an inviting slip-and-slide. But suddenly, just above, screams, laughter – and the soothing white sound of some crying – a "Cut! Let's do it again!" And a camera man loaded with expensive looking gear walked past us. No, it's not your normal child's birthday party – it's actually a video shoot of hardcore band Comeback Kid's new song "Heavy Steps", the second single off their new album of the same name will be released early next year.
"Are you and your family a little quieter?" Comeback Kid asks vocalist Andrew Newfeld after he took a long drink. "It's very hot, but I know it will be worth it in the end."
"Heavy Steps" is the second in a two-part video series that shows a desperate, psychotic father capturing his son's favorite band at his birthday party. (The first part was their first single and slasher-themed video, "No Easy Way Out", which came out in mid-September.)
We're here today after responding to a band's social media post inviting kids ages one to 12 and their parents to join a "birthday party and BBQ" at a small town address near Mission (about an hour outside of Vancouver). . My wife and I both looked at our indifferent boy picking his chirios and he shrugged his shoulders and said, "Could this really be great?" (As a longtime fan of the band, I must agree, he pumps a little fist after leaving the room.) The instructions we received were to dress without the big logo and adhere to the colorful album cover art, "red, yellow, blue." , A palette of "pink and green", excluding the inevitable punctuation of punk-like black, worn by most of the people we met that day.
"It's a bit crazy but I'm excited about what we're getting," said director Kevin Keegan, running his hand through his sweaty hair, with a tired smile. Today, he has a very agile 12 camera operators, grips and other important roles involved in video creation. "I've never done anything like this before."
"We love Kevin's approach to these songs and his work with other videos," Newfeld tells me later. "We had some ideas at first but he came up with his own angle – sometimes it's better to take their own unique from someone outside the band."
Keegan's unique reception seems to be working out in a real sense feeling like a good old hot, summer birthday party. I guess the overwhelming situations are somewhat appropriate because it's the burning of an album, for the energy that takes their now-signed, fast and aggressive sound a big burning step (for the sake of irony) that causes a metallic explosion in the new record. The elements and riffs – as well as the glorious gang vocal and melodic song-adjacent melodic moments – go even further. This album, like past records, will challenge expectations, shut your mouth, and make Comeback Kid one of the most enjoyable and exciting bands in punk rock and hardcore.
While the "Kids Birthday" theme may seem a bit random for a hardcore video, there is an enthusiastic chemistry between the kids and the band members who are always smiling. Clean it thoroughly They're having an explosion this beautiful summer day. In a comeback kid show, the way he directs and leads the tough hole and the crowd, almost in the same way, Neufeld does the same thing with this much younger, arguably rude audience, using the same playful charisma and connection that makes him a frontman for everyone. Must watch live.
And because they can't play live, Comeback Kid, like many artists, has spent the epidemic lockdown writing new records, taking advantage of plenty of time to let these songs grow and develop at their own, intuitive pace. That said, extra time was also a double-edged sword for perfectionists.
Guitarist Stu Ross says that over the months, they have "passed" more than 150 versions of the first single, "No Easy Way Out".
"After a while, we just had to cut it out and go to the next song," Ross says with a laugh.
Neufeld agrees with the lessons learned while creating the album.
"The main thing is not to be valuable about your material – you have to be able to let it go," he added.
Our first taste of the aforementioned new album is small but very sweet when the band plays the title track for a short scene. We are instructed to look overwhelmed and bored when they unveil the "wonder" band. No matter how short the song clip is, I have to concentrate really hard to keep each of my 26 neck muscles tense so that I don't have to head over to the violent clip to say a lot about the new song.
As we headed home that evening, my wife and I reflected the crazy day with tired smiles when our son screamed for more ice cream in the back. Behind a lot of fun scenes that day, we could feel how a music video came together, but we also met some great characters who were consistently quiet and open, all connected through their collective love for this punk band in Winnipeg, Manitoba.
Many musical rabbits will lose my son regardless of the hole, the band and artists that resonate most with him (one can only hope), the warmth of the comeback kid, and this song and its video, will forever be matched with it. Rad family day and birthday party in Fraser Valley, BC.