ENTERTAINMENT
Amrita Khanvilkar talks about movies, family and much more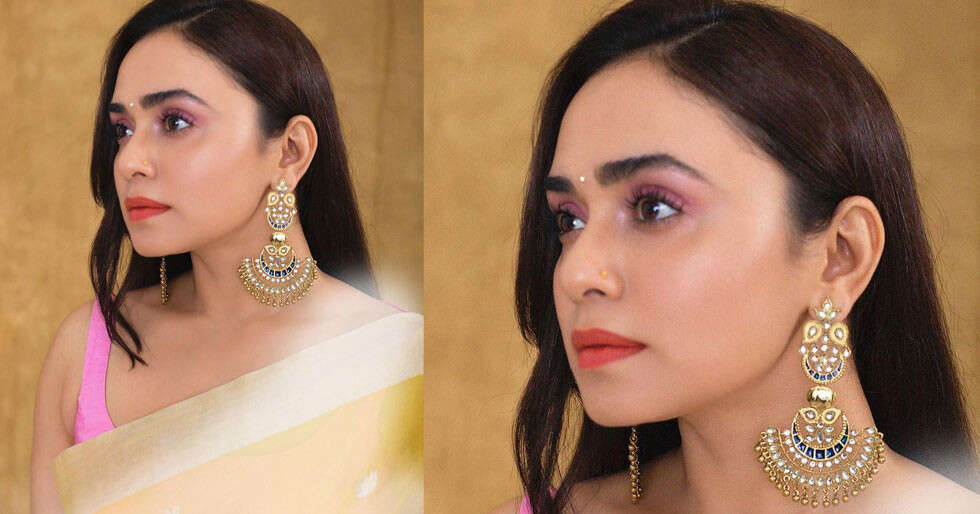 You didn't have a job for two years. The life of an actor is full of ups and downs and many uncertainties. How do you heal?
I was a very stubborn child. I believe that if I had not been in this industry, I would not have known words like humility, gratitude and patience. I feel that God has literally pushed me into this art so that I can understand the meaning of all these terms. Gratitude, humility, patience and perseverance are so important in your life. Somehow, the actor I became has shaped me as a human being. And the person I became also formed me as an actor. If you get a cough and cold, the doctor gives you a five-day course and your body is healthy. But what will happen to the mind? My parents were so busy making a living for me and my sister that they didn't have time to sit down and talk about how to make a living. They have shown us by their example what they can do – they have tried their best. But it is important for every next generation to know that when you put stress on your mind, it also needs to be healed. I have always listened to my doctors. Nowadays I am consulting an Ayurvedic doctor. I stopped allopathy right after Nach Bali. I changed my lifestyle, I started reading more, and listening and watching good things. Positive thinking is not something you will wake up to one day, today I am positive. No. It is the food of your mind. You have to eat it and this is how you will clear your energies and this is how you will rise to your vibrations.
Tell us about your first Filmfare Award Memory.
I have a lot of God. Watching Filmfare since childhood was like a big event at home. When Filmfare TV came on, I would snatch the remote and keep it with me until the last credit. I used to watch these huge stars come and perform and take home the prizes and one day I wanted to feel it for myself. Madhuri Dixit is performing Dola Re Dola … w Shwarya Rai is doing Silsila Yeh Chahat Ka … Shah Rukh is taking black women to the left, right and center … All these memories are something that actually shaped my childhood. When Filmfare started an awards ceremony for only one Marathi movie which was like a dream not only for me, but for the entire Marathi industry. Marathi cinema has faced a good run recently and I am happy to be a part of this golden year. And coming to Filmfare in Marathi is a big deal. My favorite personal memory is the first Marathi Filmfare Award where I performed on stage. It was exciting to see pictures of my dance drama published in Filmfare magazine. I remember keeping magazines in the temple. Then, my second memory was nominated for Best Supporting Actor and our beloved Nina Kulkarni won that award. And I couldn't be happier. Then, the third one was serving Mujra for all Rekha G songs on stage. I remember seeing her in a Kanchivaram sari at various Filmfare events. It was a huge honor to recreate his songs on stage.
How did you feel when you first walked the red carpet at Filmfare?
I was laughing from ear to ear. I think I finally understood what this sentence meant. (Laughs). I think every actor shines on the Filmfare stage.
Take us through some of your performances or rehearsals, something that has stayed with you?
The Mujra performance was really with me. Because, first of all, Subhash Nakash choreographed it very nicely and there were these props that looked like it was part of an old set. They helped me get in the mood for Mujra. There is always a shayari that starts with. I have always seen Madhuri Dixit doing this on the Filmfare stage. So, the whole poem comes down to beat and prop serving Rekha G's song … it's something I'll never forget. Subhash Sir always encouraged me and said that acting on the Filmfare stage is a special opportunity. And I should count my blessings for performing my Rekha Jit and Madhuri Dixit songs.
Talk about our Katia Kaljat Ghusali moment when your film won many awards.
At the time of Katia's filming, the kind of vibration and energy that Subodh Bhave created was contagious. Each film is a team effort. And five years after that photo, we're still part of its WhatsApp group. We still send funny messages and wish each other Guri Padwa, Diwali and New Year in the group. I think that movie was bigger than all of us. For each prize, we took the whole team on stage. And when it won the Best Film award, we literally called everyone who was associated with it on stage. It was a unique experience.
There is a definite limit to your dance performance. Did it scare you that you were numbering the evening in Oni … Dr. Kashinath Ghanekar.
When you are a cheater, you can do whatever you want. For many years I have only served Wazle Key Bar (Notre Dame, 2010), which fortunately became a huge hit on my show. I wanted to do something different and always wanted to recreate an iconic song from the past. So to perform a legendary number like Pinjara (1972) to Tumvavar Kelly Mi Marji Bahal, which became the Evening Immortal, was a lifelong opportunity for once. Nothing has changed from the original song to Anita … Dr Kash Kashinath Ghanekar (2018). Clothing, props, lighting, camerawork, everything was the same. Sumit Raghavan played the role of Dr. Shri Sriram Lagu and I was playing the role of Sandhyaji. We were told to imitate their expressions. And I think we both handled it well. Those who have seen the original have appreciated it, as the new generation has done. It served as a gateway to the past for them.
You have done OTT, Hindi movies, many serials and a reality show – how do you process all this?
Honestly, I think as an actor, your only goal should be to just do your job. And I'm not just saying that. I follow it from the bottom of my heart. I am not someone who has limited my options. If I had limited my options, I would never have cut or persuaded. I do my best to give as much as I can. Wazle Ki Bara was just a lavani number in Natarang. Sonali Kulkarni was the heroine, who got another remarkable number, Apsara Ali in the film. So there is nothing to do with this kind of process. Keep giving your percentage for whatever comes your way and you sort it out.