CONCERT
Jonathan Kane and Jim McHugh: October 11, 2020 Richards Street Brooklyn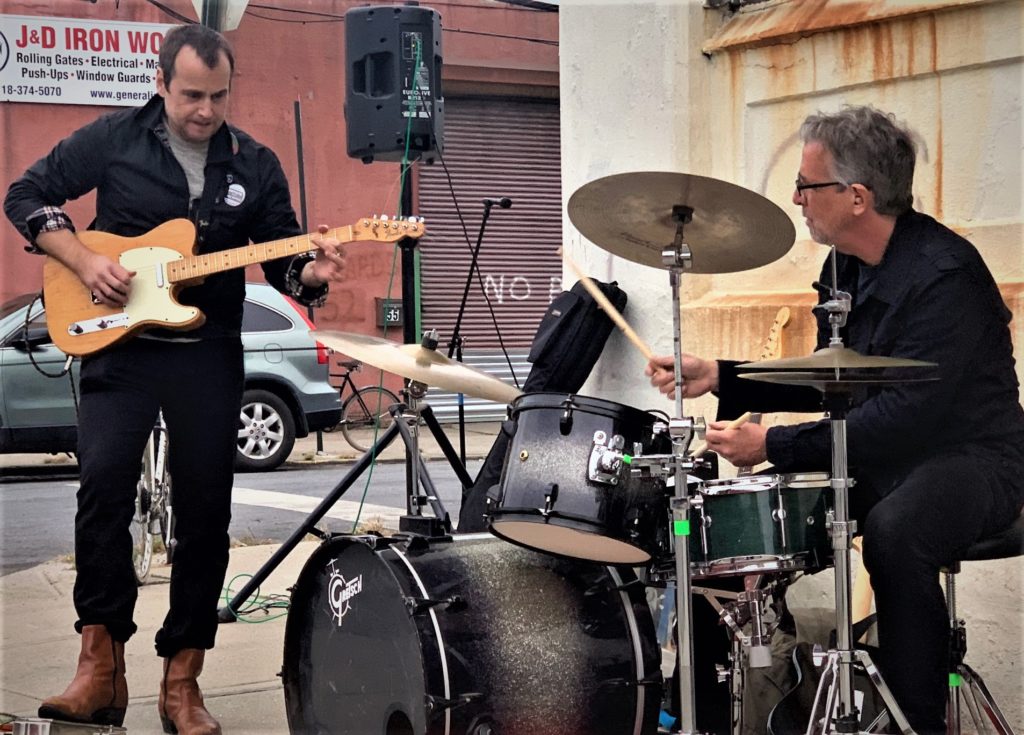 I recently read somewhere that your talent is your salvage. By doing the things that you do best, you can help heal the emotional damage from this horrible year. After a failed attempt to capture a "drive-in" show last month, I had the wonderful opportunity to experience and record a pop-up outdoor event last weekend and it was as glorious as the breeding of two musicians. Jim McHugh as the founder and lead guitarist of SimWatchers will be well known to readers of this site, while Jonathan Kane is a downtown music scene fixture for decades who is perhaps best known as the founder of Swan Drummer.
In the northeast section of the Red Hook, a few hundred yards from the battery tunnel, are a few blocks from an old industrial building that has been converted into a studio. In the corner of Commerce and Richards, there is an art studio that hosts these pop-up outdoor events while collaborating on the weather. Last weekend, Ken McHugh played two separate improvement pieces in 30 minutes. A psyche-blues feeling in the first issue was that Kane's looped guitar provided a basis for the two to work, McHugh's rock guitar and Kane's ubiquitous percussion hit several peaks. The second piece quietly starts with some delicious slide guitar leaks before the two take it all the way to the swamp – a truly magical climax of a short but truly sweet accompaniment set.
I recorded this set with a set of friendly outside large diaphragm Newman immediately in front of the band and the sound quality is quite remarkable. Enjoy!
Download the full show [MP3] [FLAC]
Stream full show:
Why McHugh
2020-10-11
Richards Street
Brooklyn NY
Digital master recording
On stage
Neumann KLM-102s> Sound Device 744t> 24bit 48kHz wav File> Soundforge (Post Production)> CDWave 1.95 (Tracking)> TLH> flac (Tagging via 320 MP3 and Foobar)
Recorded and produced
by nyctaper
Setlist:
[Total Time 27:17]
01 Improvement 1
02 Improvement 2
Jonathan Kane – drums, percussion, guitar loop
Jim McHugh – guitar, slide guitar
Please support these amazing artists: Why Facebook and SunWatchers BandCamp