FESTIVAL
Korean recipe: Samgyatang (Ginseng Chicken Soup)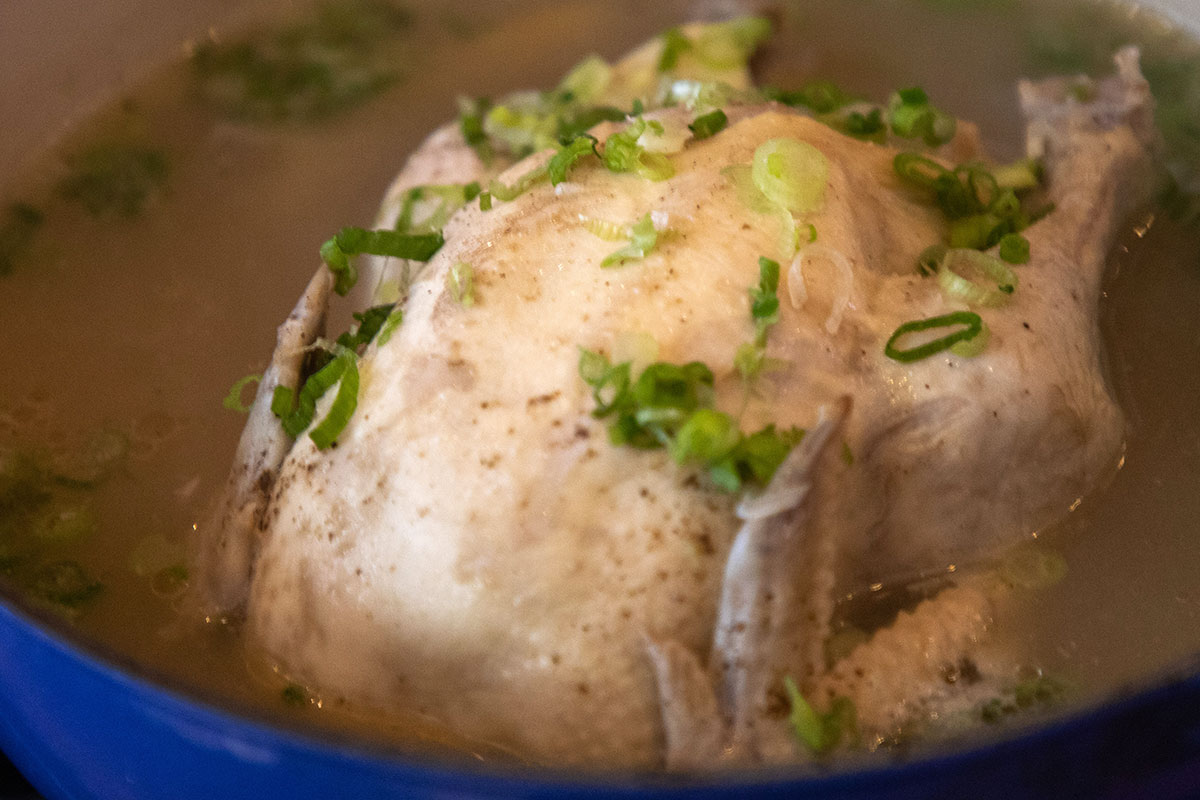 Sunday, June 28, at 2 p.m., please join us Samgyetang: Korean ginseng chicken soup across generationsThis 2021 Folklife Festival event, featuring Yesun and Danny Lee of Mandu Restaurant in Washington, DC, is part of our Greater American Ginseng: Local Knowledge, Global Roots project.
On a rainy May morning, the crew of a limited number of Folklife films landed in Mandu, K Street NW, Washington, D.C., to record its production and the stories behind it. Samagitang (6, ginseng chicken soup). Encouraged by her daughter, Yasun Lee and her son Danny Lee opened Mandu in 2006 as the first Korean restaurant in DC.
ChorusSam (Ginseng, ginseng), Yes (Chicken, chicken) Tang (탕, soup) – A small chicken filled with sweet sticky rice, ginseng root and garlic, cooked with an herbal broth. It is a comforting food, eaten all year round, but especially during Sambok (삼복), three days during the warmest period of summer, when it provides the opposite cooling effect. Sam (6) In this case the dates "three", and Chobok (초복), Jungbok (중복), and Malbok (말복) are determined by the lunar calendar each year.
There is a saying in Korean, i-yeol-chi-yeol (6), which means "to defeat heat with heat." So piping hot chicken soup at the height of summer is just a way of life for the common man.
It is a one-chicken-per-person type food, so Cornish game chicken is commonly used in the United States, but in Korea it is made with smaller, smaller chickens. The ripe cavity is filled with pre-soaked sweet rice, garlic and ginseng *, then sealed, while the remaining perfumes are wrapped around the bag.
An "equivalent herbal blend" is easily purchased online or at your local Korean grocery store **. Herbal blends vary by brand, but generally remain Huangki (황기, Astragalus root, or Milk Vech) and Um Namu (음나무, kalopanax, or thorny castor oil tree). Samagitang can be made without additional herbal blends, but modern consumers know the food for its herbal and comfortable inal shady taste. The end result is a tender chicken with a flavorful broth, begging to be eaten on a dull day with some people. Insamju (That, ginseng wine) next.
In Mandu, our covid-limited group happily digs into the small birds, biting under our masks, away from each other. Eating fruitful food has always been a highlight of any food depiction, which becomes even more significant after listening to the story in depth with the food personally. For our small group, of course, that day in May meant more than just delicious food.
This is the first time in more than a year that we have seen each other in person, or in real life. It was, in my personal experience, the first All-Asian American team I worked on. Not only that, we were also highlighting an Asian American story that I had never been able to tell in my professional life. After months (years, really) of anti-Asian racism and violence everywhere, the catharsis of representation still expressed many indescribable emotions for me. But luckily for me, I found some comfort in a bowl of ginseng chicken soup.
Notes from the test kitchen: The following recipe is for a chicken, usually for one. The recipe can be easily extended to serve more than one, but do not double the herbal mixture when used.
* There are multiple ways to prepare this dish. The recipe below has ginseng outside the chicken, but during our filming with Yesun, he kept the ginseng inside.
** Advanced cooks with advanced language and herbal knowledge can also buy herbs separately from East Asian grocery stores or herbal stores.
Samjyatang (Korean Ginseng Chicken Soup)
Yesun Lee, Mandu Restaurant
Materials
1 Cornish chicken
1/4 cup sweet rice
6 cloves whole garlic
1 ginseng root, fresh or dried
2 jujub, dried
2 pieces ginger, one inch thick
4-5 cups water or chicken stock
Samgyetang Dried Blend Mixture
Test the salt and pepper
To decorate, cut, sort
Preparation
Soak the sweet rice in cold water for at least an hour, then strain it.
Rinse the Cornish chicken thoroughly with cold running water. Dry the exterior and cavity of the chicken with a paper towel.
Season the chicken cavity generously with salt and pepper. Carefully place half of the torn sweet rice inside the chicken cavity. Place 3-4 cloves of garlic in the rice inside the cavity. Close the cavity using toothpicks or squares to fold the skin over the cavity and attach to the other side.
Place the chicken in a wide soup bowl so that there is plenty of space in it. Fill the pot with enough chicken stock or water to keep the chicken covered.
Add the remaining garlic cloves, ginseng root, ginger pieces, jujube and dried herbal mixture to the pot. Put on high heat and bring to a boil, and then lower to medium heat. Turn off the foam and discard, boil and cover for 20 minutes.
Keep the heat low to medium low, cover, and continue cooking for another 45 minutes.
Turn off the heat, and leave covered in the pot for another 10-15 minutes.
Season broth with salt and pepper to taste. Serve garnished with chopped chillies, salt and pepper on the side.
Kathy Fung is the food coordinator of the Smithsonian Folklife Festival and the manager of the exhibition kitchen at the National Museum of American History. With a bachelor's degree in anthropology and baking and pastry art, he has worked as an ompa lumpa, pastry cook and butcher at various food establishments in the DC area.