FESTIVAL
Partners in Flight: The Women Falconers of the UAE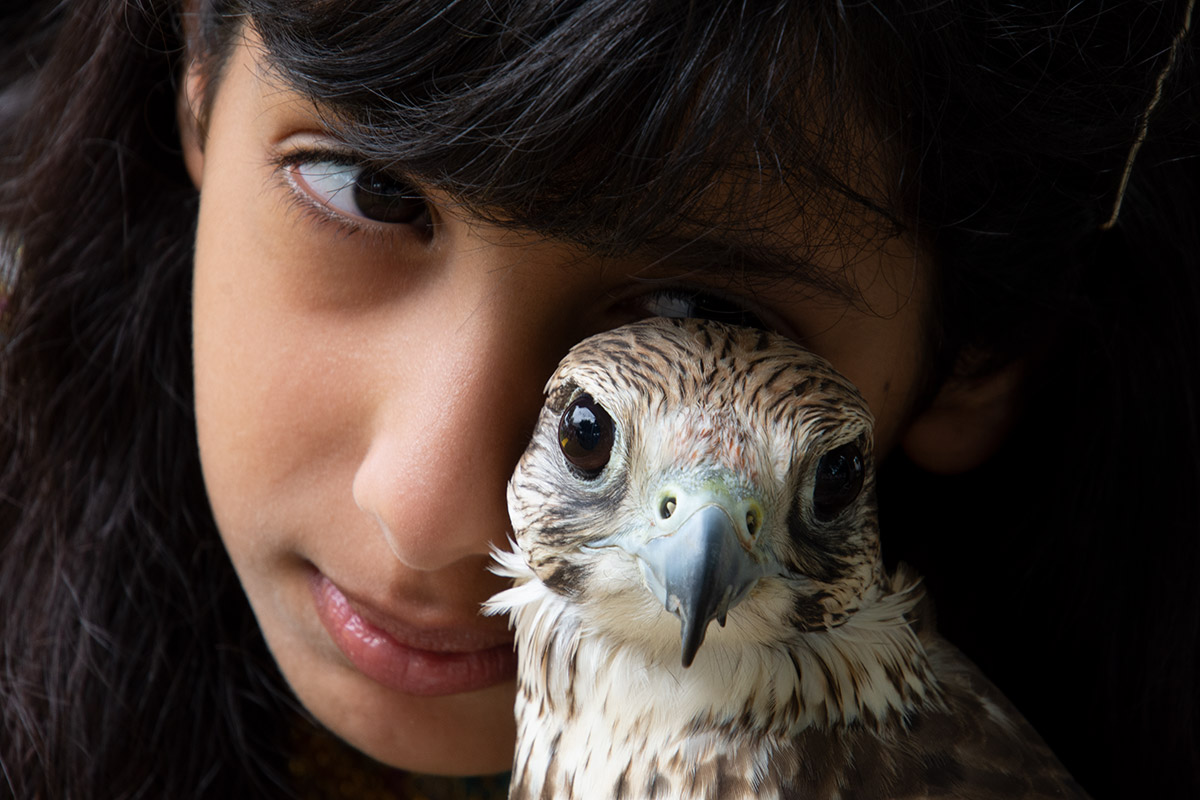 For Ayesha Al Mansoori, learning the ancient art of falconry was not for sustenance or sport. It was a way to be close to her father.
"At first, I simply wanted to stay around him, out of love," she explained, telling her story from her tent at the Smithsonian Folklife Festival's United Arab Emirates program. Together, they would go out into the desert hunting, observing, and practicing. Eventually, Ayesha became the first female falconer in the UAE. "Falconry is in my blood. It's my culture and something I grew up with."
Falconry originated about 4,000 years ago from the Bedouin, a nomadic group in what is now the UAE and the wider Arabian Peninsula. In the resource-scarce desert, falcons were trained as helpers and partners for hunting. They are intelligent, speedy, and courageous. Throughout the centuries, falconry evolved into a popular sport as well as a potent national symbol, a showcase of the UAE's cultural heritage and—in the case of the Al Mansooris—a family lineage.
Ayesha's daughter, Osha, is the youngest falconer in the UAE at just nine years old. Since she was eight months old gurgling in her stroller, Osha has lived with falcons in their family room. "When she was a baby, she would try to touch and hold the falcons," Ayesha recalled. "And when I fed the falcons, she would sit near and watch." Ayesha's father also noticed his granddaughter's curiosity. "My father told me, 'You should teach her falconry, everything about the falcons, the desert, the culture, everything."
Osha's education started with a lesson: instead of fierce domination or unilateral control from human handlers, falcons require attentiveness and respect. Before the birds can hunt, it's essential that falconers establish a solid tie with their birds, Ayesha stressed. When young falcons are taken home, "we must stay with the falcons alone for one to two weeks. You feed them and let them recognize you." There are magical moments that signify the strengthened tie: "When they hear your sound, they will recognize you. They will respond or even get excited."
Then it's time for the training to start. Every falcon is different, and falconers must adapt to their personalities and habits. Ayesha couldn't bring her falcons to the Washington, DC, due to travel restrictions, so the Folklife Festival invited American raptors temporarily housed at the Smithsonian's National Zoo. Over the two weeks of the Festival, visitors saw the process of falcons and falconers getting comfortable with each other. For the first several days, the falconers kept the birds' eyes and ears covered with hoods called burqa—the same term for the face and body coverings worn by some Muslim women. This is a crucial step in taming the new falcons.
"The hood keeps the birds away from too much distraction from the crowd, so they can be more focused on me," Ayesha explained. Indeed, the Festival's Falconry tent was often surrounded by a swarm of curious and amazed crowds. When feeding a falcon, Ayesha removed the hood, letting the bird recognize its human partner. By the end of the festival, the falcons no longer needed their hoods.
In the UAE, Ayesha generously shares falconry knowledge and skills with other women, building up a community in an otherwise male-dominated field. In 2016, she established a Falconry Ladies Club.
"There should be more female and young falconers," she says firmly of her vision for the future. "Everyone could go out together, hunting with their families."
Just as Ayesha found a way to be close to her father, she creates the same bonds with her daughter and a growing community of women practitioners, one that now reaches around the world.
Yuer Liu is a writing intern at the Smithsonian Center for Folklife and Cultural Heritage, an aspiring anthropologist, a traditional Asian puppetry performer, and an undergraduate at Stanford University. Her research interests include material culture, sound art, and multi-species ethnography.