CONCERT
Stuart Buggy, Riley Walker, Spencer Jahan, Kevin Razka: June 10, 2021 Nablu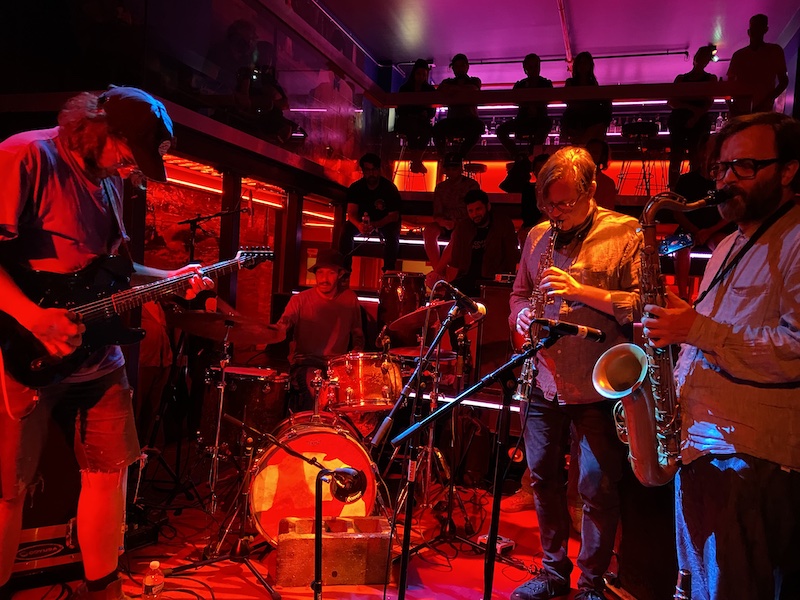 I have met a lot of new people in very few gigs since the return of live music. This is somewhat surprising because in the last year our world has become so small, only communicating with our bubbles. But nature heals. Here our longtime friend NYCTaper Riley Walker is meeting some new people for a jam session at Nablu: The multi-instrumentalist Stuart Buggy, Bassist Spencer Jahan, And drummer Kevin Razka. The original quadrangle was enlarged with a wonderful group of musicians, including: Dave Scalia (Drums), Chris Bullock (sax), Domenica Fosti (flute), Jake Pinto (keys), Eric Biando (trumpet / key), Raymond Mason (Trumpon), Jackie Coleman (Trumpet), and Billy Ostic (Trumpet). Many of these people are members of Antibalus, who are coming up with a few gigs, including a few nights at the Central Park Summerstage and the Brooklyn Bowl. I really can't do justice to all these musicians in writing so I encourage you to listen to your own to face this new and exciting encounter.
I recorded it from our normal position in Nublu and the sound is nice because we came to expect. Scream Nablu and Chris Tart for being such a great organizer. Enjoy!
Stream and download shows from the Live Music Archive.
Stuart Buggy, Riley Walker, Spencer Jahan, Kevin Razka
2021-06-10
Nablu 151
New York, NY
Recorded and produced by Eric PH for Nyctaper.com
MBHO KA300 / 603A> Naiant PFA >> Sound Devices MixPre-6> WAV (24/48)> Adobe Audition CC + Izotope Ozone 5> Audacity 3.0.2> FLAC
Track [2:39:34]
01. I.
02. II
03. III
04. IV
05. V
Stuart Buggy (sex etc)
Riley Walker (guitar)
Spencer Jahan (bus)
Dave Scalia (drums)
Kevin Razka (drums)
With:
Chris Bullock (Sex)
Sunday Fosti (Flute)
Jake Pinto (key)
Eric Biando (trumpet / key)
Raymond Mason (trombone)
Jackie Coleman (trumpet)
Billy Ostic (trumpet)