FESTIVAL
The Royal Pocket Tour: Listening to Go-Go's ancestral beat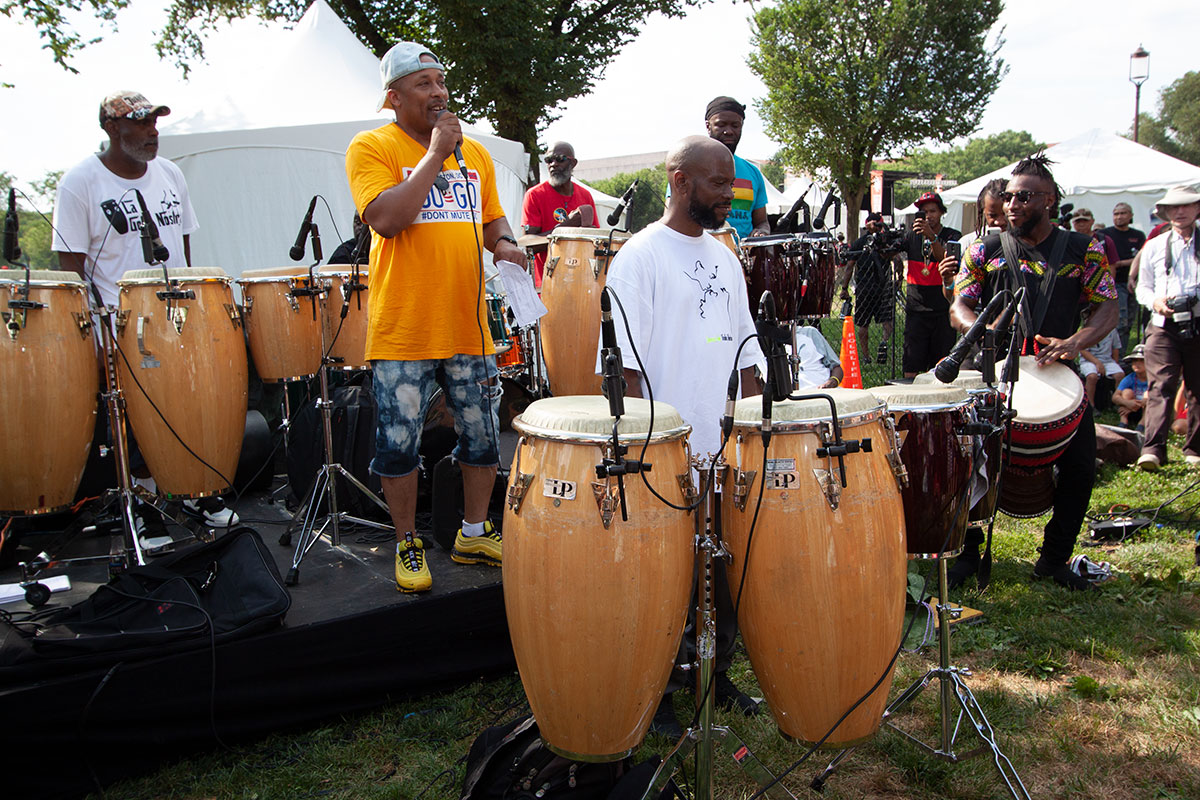 Like a heartbeat, like a deep memory, Ronald Moten has been listening to umol for a long time.
When he was younger, his mother would take him to Meridian Hill Park (aka Malcolm X Park) in Washington DC, which rises just a mile and a half straight from the White House to Sixteenth Street NW. The Malcolm X Park Drum Circle has been called there weekly since Malcolm X was assassinated over the weekend in 1965. Looking at the various percussion instruments – many of which have been transported to the United States by expatriates – Motten thinks it was great, but "it's some African thing," not something he necessarily had.
For Moten (aka Mo), it was a gradual manifestation, a growing ink of ancestral connection and resilient history. In the 180's, when he was a teenager, he lived in an apartment across the park, and he used to watch drummers.
"You've seen strong men and women who they trust," he says. "It was like unity and love, coming together and vibrating together. It was like a soul. Black love. It felt safe, unique. It seemed like it was yours. "
Also at this time, for Moten, there was always the go-go, DC national anthem, driven by the steady grooves of Conga players, creating strength and "pockets" that keep people away from the dance floor.
"But when it really, really hit me when I came back from prison in 1991."
After spending time on drug charges, Moten devoted himself to activism and violence prevention. Stop the Fire as a Key Member of the Association: Don't Smoke Brothers and Sisters, he introduced academics and artists who incorporated education from African history and expressions of Pan-African culture into their work with youth, such as rituals. Is given at the beginning of the assembly.
In 1995, he was amazed by the scale and co-operative power of the Million Man March, which began with a morning session of African drumming and dancing. Through his youth development work in later years, Moten Stokley had the opportunity to meet with leaders such as Carmichael and Winnie Mandela, and through these interactions he connected the dots.
"It opened my eyes. I was getting acquainted with my culture. I saw history, music, spirituality, the use of drums in protest, education and all parts of healing.
With the Royal Pocket Tour, Moten describes coming to consciousness. Since 2001, he has made several iterations of this performance প্রথমে first from the garden platform behind his established business, Check-It Enterprise (and the future site of the Go-Go Museum and Caf)), and later the thirty-fifth floating Potomac River Anacostia boat trip. On the anniversary, at that time he highlighted how their slave ancestors were transported to the region by this same local waterway.
In this 2019 presentation of the Royal Pocket Tour at the Smithsonian Folklife Festival, Moten pays tribute to the artists of Go-Go Music in DC, whom he considers his teachers. Prominent artists include Edwards, John "Stinky Dink" Bowman, Keith "Sauce" Robinson, Samuel "Smoke" Deuce, Vernal "Wink" Powell, Paul "Buggy" Edwards, Nathaniel "Knut" Field and Leroy "Scooter" Taylor.
The performance was co-produced with Natalie Hopkinson, with whom Motten organized a petition in the spring of 2019 as part of the Don't Mute DC protest against the residential and cultural displacement of the black community in DC. Mike, Ron said, "Zembe was the world's first drum." In fact there are old drums in Africa and other parts of the planet. But later he made it clear in a conversation that, above all, what he wanted to emphasize and what the world meant to him was Drums, In general, write in large size on the African continent – its ancient rhythm and usage, and how it is echoed in the hands, body and activism of people running DC.
In collaboration with the Smithsonian Folklore Festival as an extension of 2019 DC: The social power of music The program, a new version of the Royal Pocket Tour, was created on November 22 for the 2020 GO-GO Awards. See more info and watch the live stream.
Sojin Kim is a program curator at the Smithsonian Folklore Festival and co-curator of the DC Music Program..